The Seven Stages of Grief: Coping with Loss
People react to loss in different ways, and there are many factors that can influence how to deal with grief.
We're here to help you understand the seven stages of bereavement, and how to cope when dealing with grief and loss.
How to deal with grief and loss
There are some widely known phases that people go through when they are coping with loss. People move through these stages of grief and loss at their own pace, but eventually they tend to find themselves at peace with what has happened.
Below are the seven stages of grief. You may use these stages to identify the needs of friends or family who have recently lost someone, or it might help you to know that your own grief will eventually ease off. Remember you always have people you can talk to - whether that's family, friends or a professional.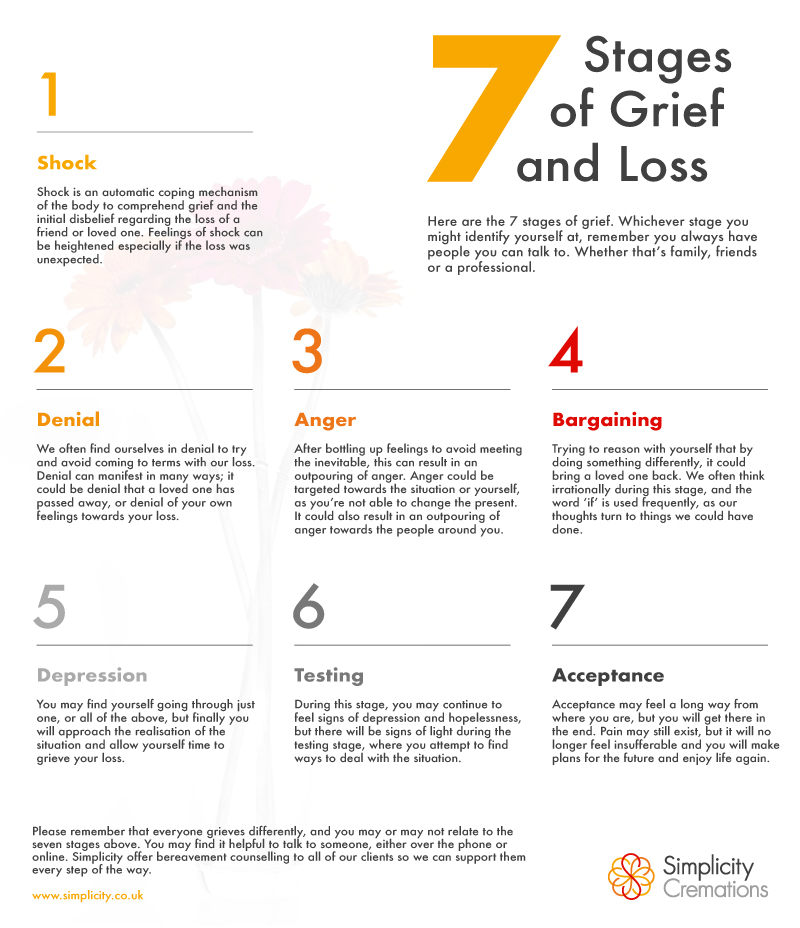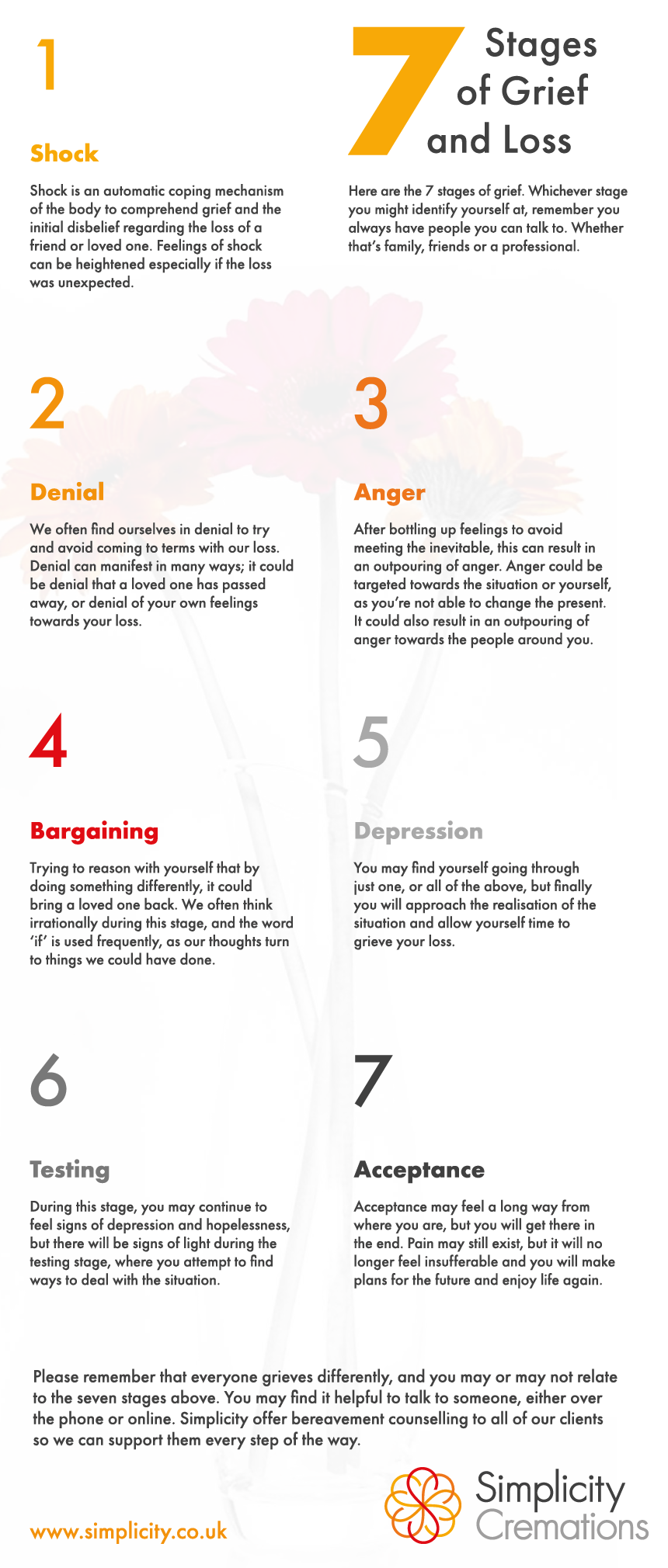 1. Shock – Shock is an automatic coping mechanism within the body to comprehend grief and the initial disbelief regarding the loss of a friend or loved one. If the loss was unexpected, feelings of shock may be heightened.
2. Denial – We often find ourselves in denial to try and avoid coming to terms with our loss. Denial can manifest in many ways; it could be denial that a loved one has passed away, or denial of your own feelings towards your loss.
3. Anger – After bottling up feelings to avoid meeting the inevitable, this can result in an outpouring of anger. Anger could be targeted towards the situation or yourself, as you're not able to change the present. It could also result in an outpouring of anger towards the people around you.
4. Bargaining – Trying to reason with yourself that by doing something differently, it could bring a loved one back. We often think irrationally during this stage, and the word 'if' is used frequently, as our thoughts turn to things we could have done.
5. Depression– You may find yourself going through just one, or all of the above, but finally you will approach the realisation of the situation and allow yourself time to grieve your loss.
6. Testing – During this stage, you may continue to experience feelings of depression and hopelessness, but there will be signs of hope during the testing stage, where you attempt to find ways to deal with the situation.
7. Acceptance– Acceptance may feel a long way from where you are, but you will get there in the end. Pain may still exist, but it will no longer feel insufferable and you will make plans for the future and enjoy life again.
When it comes to coping with loss, please remember that everyone grieves differently. You may or may not relate to the seven stages above. You may want to share a particular stage, or activity with us that you feel has helped you process your grief, so that we can share this with others. 
It helps to talk to someone
The best way to deal with grief is to talk to someone about how you're feeling. We know that no-one can understand exactly what your loss feels like to you, but we do understand that sometimes when processing your grief, it's easier to talk to someone outside of your friends and family.
This is why we offer our GriefChat service.
We also provide access to a professional telephone bereavement advice and support service for anyone who needs it, as well as advice on how to deal with grief and some useful contacts you may find helpful.
GriefChat is a way of connecting bereaved people directly to trained bereavement counsellors through a live chat programme, which can be hosted on any website.
To find out more about the service GriefChat provide, click here.
Talk to Simplicity
We offer low cost funerals, direct cremations and funeral plans without compromising on quality, care or service. Contact us for help organising and coping with a funeral.